Ninjoy or Joy is an female ninja warrior who lives in Calypso Island. She is an one of the Papa Louie's customers with long brown hair wrapped into two ponytails. She first appered in Papa's Freezeria. She is a closer in Papa's Pancakeria.
Her meal: 3 waffles with bluberry mix and blueberry syrup. Drink: Cranberry juice in large cup with ice.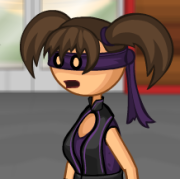 as you can see her favourite food is blueberry's and has Bruna's bodyshape.
In Papa's Freezeria, she's the last customer to come before Papa Louie does. s
After Pancakeria, she wil quit being a closer.
Many people thought she was Tohru's evil twin.
Ad blocker interference detected!
Wikia is a free-to-use site that makes money from advertising. We have a modified experience for viewers using ad blockers

Wikia is not accessible if you've made further modifications. Remove the custom ad blocker rule(s) and the page will load as expected.